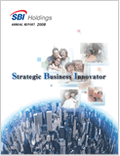 The SBIH Group had 74 consolidated subsidiaries (including 19 partnerships) and eight equity-method affiliates as of March 31, 2008.
The SBIH Group has five core businesses: Asset Management, which primarily involving the operation of investment funds; Brokerage & Investment Banking, mostly the securities business; Financial Services, which offering a variety of innovative financial services; Housing and Real Estate, involving primarily real estate investments and development; and System Solution, a business sector newly established in FY2007.
As an Internet-based comprehensive financial group, which is centered on financial businesses but includes non-financial operations as well, the SBIH Group is positioned for future growth as it continues to pursue the convergence of finance and the Internet.