To Our Stakeholders
To Our Stakeholders


STRATEGY 01 A Paradigm Shift to FinTech 2.0
Migrating to FinTech 2.0, which Provides Innovative Financial Services
During the 1990s, when I founded the SBI Group, Japan was experiencing two major trends of financial deregulation[1] , and the Internet revolution[2] .
 Considering the high affinity between finance and the Internet, we sequentially entered into the securities, banking and insurance businesses with the Internet as the main channel, and have subsequently provided services with higher economic potential and convenience, by drawing fully on the strength of technology. At the same time, we constructed a financial ecosystem that pursues synergies and mutual development of companies within the SBI Group, which was fully completed with the start of operations of the life insurance business in 2016. The establishment of a financial ecosystem with the Internet as its main channel is the primary factor that brought about a dramatic growth in the SBI Group, which we refer to as FinTech 1.0, or the initial stage of FinTech[3] .
 Today, using elemental technologies in fields that are drawing attention for their new technological revolutions, including AI, big data, IoT, and robotics, in addition to blockchain, we are advancing the construction of FinTech 1.5 on the established Web-based online financial ecosystem, in a stage where new financial businesses are being created one after another.
 In this way, within the technologies we refer to as FinTech, blockchain is a platform that facilitates the exchange of value over the Internet, and safely processes a large variety of digital financing, and holds the promise of incorporating significant social changes. Progress in the development of blockchain will engender the creation of innovative financial services, which will utilize blockchain-based applications, as the era of FinTech 2.0 with blockchain as its core technology approaches closer to reality. The SBI Group will continue to drive its migration process to a complete blockchain financial ecosystem in this FinTech 2.0 era.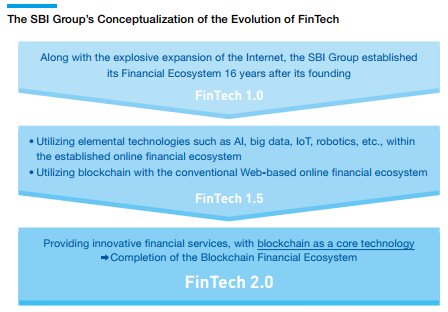 [1]Financial deregulation:
The so-called "The Financial Big Bang in Japan" from FY1996 to FY2001, when the government implemented major reforms of the financial system. It is acknowledged to have completely deregulated broker commissions for st ocks, and to have removed restrictions to the establishment of the bank holding company.
[2]The Internet revolution:
In conjunction with the rapid spread of the Internet, it established consumer sovereignty and brought about a change in financial services by allowing everyone to have access to information over the Internet.
[3]FinTech:
See p. 7
Enhancing Alliances with FinTech Venture Companies in Our Portfolio
A large proportion of technical innovation comes from venture companies. In the FinTech field, as a result of the flourishing of technology in blockchain, the core FinTech technology, and in such fields as AI, big data, IoT, and robotics, venture companies have been playing the main role since 2013 in promoting innovation in financial technology. Accordingly, the SBI Group established the FinTech Business Innovation Investment Limited Partnership (FinTech Fund) in December 2015. With a total capital commitment of ¥30 billion, this specialized FinTech Fund is the first such fund in the industry, and has invested heavily in a variety of fields related to FinTech. As of June 30, 2017, investments from the SBI Group have been decided upon for 49 companies at a total value of ¥26 billion (of which ¥15 billion comes from the Fund).
 This activity has not been limited to investment alone, as we also introduce technology, ahead of other companies, from the venture companies in our portfolio to the Financial Services Business. Specifically, we are creating new financial businesses, and advancing business efficiency through alliances between venture companies in our portfolio and individual Financial Services Business companies within the Group. This has led to the launch of a robo-advisor[4] service, and a loan service based on accounting transactions[5] , while for the development of new businesses, examples include the development of personalized insurance products[ 6] and the establishment of next generation remittance systems[ 7] leveraging blockchain.
Creating a New Finance Business Leveraging Blockchain
While various initiatives to leverage blockchain in the financial business are advancing throughout the world, in order for the SBI Group and Japanese corporations to heighten their global presence, we must enter new businesses while at the same time participate in globally advanced frameworks. Specifically, we have invested in U.S. FinTech companies, such as Ripple and R3, which hold advantages in distributed ledger technology (DLT)[8] , which is a technology related to blockchain. With Ripple, we have established SBI Ripple Asia, which is a joint venture. Ripple is drawing worldwide attention for its success in all parts of the globe in practical testing, using the Interledger Protocol (ILP) platform which was developed proprietarily. The SBI Group, who is the largest outside shareholder of R3, also participates in a consortium led by the company. This consortium includes over 80 participating financial institutions from countries around the world, and operates on the highest global scale as a working group engaged in raising market efficiency, by making use of distributed ledger technology. In November 2016, it completed a pilot implementation for the commercialization of Corda, a distributed ledger technology for financial institutions that has moved to open source. The SBI Group, along with the world's major financial institutions, who are also members of other groups, will endeavor to make ILP and Corda the global standard in finance.
 Also, SBI Virtual Currencies, established in November 2016, promotes alliances with virtual currency exchanges in Japan and abroad, which are included as investment targets in the FinTech Fund of the SBI Group, and participates in trading exchange operations that handle a variety of virtual currencies, such as bitcoin and XRP[9] . This currency exchange is scheduled to commence operations in the summer of 2017, and will be handling trading services such as exchange with local tokens that serve as scrip money, claim tickets and gift certificates that circulate in the local region. Outside of this, we plan to develop SBI Coin (tentative name) within the Group. Our goal is to use SBI Coin as a bridge currency for mediation of inter-company settlements, and all types of digital assets through exchange with various crypto-currencies, cash, SBI Points[10] and gold bullion.

[4]Robo-advisor:
SBI SECURITIES offers customized robo-advisor services provided by FinTech venture companies, such as WealthNavi Inc. and MONEY DESIGN Co., Ltd. See p. 26
[5]Loan service based on accounting transactions:
Through an alliance with Zeus, a settlement service provider, SBI Sumishin Net Bank offers "Lending 1," a business loan service based on accounting transactions See p. 27
[6]Personalized insurance products:
Through an alliance with FiNC Inc., SBI Life Insurance has started provision of a health management app as an initiative for promoting preventive health care to subscribers, and as an incentive for joining an insurance plan. It is also promoting measures for the development of personalized insurance products. See p. 29
[7]Next generation remittance systems:
The SBI Group in May 2016 established SBI Ripple Asia as a joint venture with Ripple of the U.S., which develops a next generation settlements platform. See p. 14 and 29
[8] Distributed ledger technology:
A technology for performing distributed management, and sharing transaction data among multiple parties. DLT has technical characteristics different from the conventional centralized-control type.
[9]XRP:
A virtual currency operated and managed by Ripple of the U.S.
[10]SBI Point:
A loyalty points program offered by the SBI Group.
STRATEGY 02 Expanding the Corporate Ecosystem by Strengthening Cooperation with Companies Outside of the Group
Collaborations with Companies Outside of the Group in the Online and Face-to-face Realms
The SBI Group not only provides services through the Internet, but in order to provide the most optimal financial products for each customer, is buttressing the operations of SBI MONEY PLAZA, a face-to-face franchise shop (approximately 400 bases), which has enabled the SBI Group to organically supply its financial services, both on an online and face-to-face basis, to receive high customer satisfaction feedback. Going forward, I believe that it will become necessary to strengthen alliances with companies outside of the Group, on both an online and face-to-face basis, regardless of whether they are involved in the same or different industries.
 In the past, we had provided a high level of customer convenience through a comprehensive provision of information, finance and services, on an intra-Group basis, but by strengthening our alliances with companies outside of the Group, we will be able to greatly expand the breadth of products and services that we will be able to provide. Taking the securities-related business as an example, we are flexibly and strategically rolling out the defined contribution pension plans (iDeCo) services, by partnering with the Daiwa Securities Group in iDeCo, by merging both companies' corporate resources. By taking advantage of the external company's resources, such as the sales force and the customer base in this case, along with our efforts to develop and provide products and services with high customer benefits, we will be positioned to continue to expand our corporate ecosystem by developing various such business domains in the future.
Speeding up the Diffusion of FinTech Open Innovation and the API Economy
The SBI Group is developing new financial services, one after another, through alliances with companies outside of the Group, but the key to accelerating the diffusion of FinTech are an open innovation[11] and the API[12] economy.
 Even with venture companies that boast superior elemental technology, it is rare that an individual company can deliver a complete range of products and services using only the technologies that it possesses. Instead, we believe that additional attractive products and services can be created through a combination of these elemental technologies, and that it is important to reduce the cost of introducing these new technologies. An effective means of bringing this to reality is to lower the cost per individual company, by sharing the cost burden of technology introduction and product development with our many strategic partners, as well as promoting joint development. By using this type of an open innovation method, the SBI Group will conclude strategic partnerships with numerous regional financial institutions.
 Also, the rapid expansion of the API economy is regarded as an example of an advanced initiative that strengthens a SBI Group alliance. Through the release of a bank's API, to connect it with a FinTech venture company, breakthrough services formerly unavailable are now realized. In this context, customers will be able to safely and accurately retrieve their own bank account balance or account activity statements, as well as conduct actual transfer of funds through means such as bank transfer, through the services supplied by FinTech venture companies.
 Towards the expansion of the API economy, SBI Sumishin Net Bank is proactively working towards an API connection with technology development ventures in accounting, asset management and operations.

[11]Open innovation:
One of an innovation methodology.To promote open innovation, we have established SBI FinTech Incubation, a joint venture with IBM Japan, Ltd. See p. 14
[12]API (Application Programming Interface):
A mechanism to enable the managing of data and software functions from an outside program source.
See p. 27
STRATEGY 03 Establishing a Framework for the Independence of Each Company of the Biotechnology-related Business
Establishing a Business Structure that Realizes Sustainable Growth in the Biotechnology-related Business
In the Biotechnology-related Business, which I view as one of the core industries of the 21st century, SBI Pharmaceuticals and SBI Biotech both achieved their first full-year profitability since their founding, and the other companies of the Biotechnology-related Business are all establishing a structure that will position them to generate a profit. Going forward, through the expansion of pharmaceutical out-licensing [13] , and the boosting of the sales of health foods with function claims, the major companies within the Biotechnology-related Business will move toward an IPO, and a structure will be established that will enable each of the companies to operate independently.
 In anticipation of the medium- to long-term growth, a stringent selection of the R&D pipeline in the 5-Aminolevulinic Acid (5-ALA)[14] business, which is the core pillar of the Biotechnology-related Business, will be made, while planning the expansion of the R&D domain into related areas. For example, in the case of an intraoperative diagnostic agent (PDD: photodynamic diagnosis), in addition to that which is already on the market for malignant glioma, we have moved into the clinical phase for bladder cancer and peritoneal dissemination of gastric cancer, as we seek to expand the application to other strains of cancer, and for a therapeutic agent for mitochondrial diseases, which is similarly in the clinical phase, we are endeavoring to expand the development domain to apply it to the development of a remedy for Parkinson's disease and Alzheimer's disease.
STRATEGY 04 Actualizing the Corporate Value and Increasing Shareholder Returns
Actualizing the Company's Intrinsic Corporate Value by Listing the Group's Subsidiaries
The SBI Group will continue to focus on actualizing the Company's intrinsic corporate value. Some of our institutional investors have been voicing concerns about how difficult it is to understand the wide range of fields in which the SBI Group conducts its business, with some also claiming that a conglomerate discount might arise from operating such a diverse number of businesses. In response, we are promoting the IPOs of the Group companies, which we expect will clarify their business value, and help actualize the corporate value[15] of the entire SBI Group.
 With regard to the public offerings of the Group subsidiaries, we are currently considering the listing of six subsidiaries. For example, SBI FinTech Solutions (formerly SBI AXES) is already listed on the KOSDAQ market in South Korea, and operates a payments-related business that has an affinity with FinTech. For the purpose of accelerating growth and raising the corporate value even further, three FinTech-related Group companies were consolidated under SBI FinTech Solutions, which will put FinTech at the center of its business. In the insurance business, six companies that operates insurance businesses within the Group were placed under SBI Insurance Group[16] , an insurance holding company that started operations in March 2017, with the intent of listing it as an insurance holding company. In this way, we are enhancing shareholder value by reorganizing individual Group companies, and by manifesting the latent corporate value through public stock offerings.
 We, the SBI Group, believe that the creation of customer value is the foundation of corporate value, and that customer value, shareholder value and human capital value are mutually interconnected and increase over time in a virtuous cycle. Increasing customer value through close adherence to the "Customer-centric Principle" on a group-wide basis contributes to improvements in business performance, and an increase in shareholder value. This makes it possible to recruit and retain talented personnel, which leads to an increase in human capital value. The Group believes that if talented personnel can be secured, then the Group can produce better goods and services, which leads to substantially higher customer value, and produces the conditions for a virtuous cycle.

[13]Out-licensing track record:
• SBI Biotech has concluded an out-licensing agreement of its drug pipeline with Kyowa Hakko Kirin Co., Ltd.
See p. 35
• SBI Pharmaceuticals has out-licensed its diabetes and malaria therapeutic drug pipeline, as well as provided exclusive marketing rights to Chugai Pharmaceutical Co., Ltd. of its "ALAGLIO® Granule 1.5g" bladder cancer therapeutic agent.
See p. 36
[14]5-Aminolevulinic Acid (5-ALA):
See p. 6 and 38
[15]Actualization of corporate value:
The listings of the following six subsidiaries are considered.
• SBI FinTech Solutions (already listed on South Korea's KOSDAQ market)
• SBI Insurance Group
• SBI Capital Management
• SBI Biotech
• Quark Pharmaceuticals
• SBI ALA Hong Kong
[16]Insurance holding company SBI Insurance Group:
See p. 28
Continuing a High Level of Shareholder Returns Linked to Profits
For shareholder returns, we set our basic policy on dividends as paying a minimum annual dividend of ¥10 per share. When, in our judgment, more profits can be returned to shareholders after giving overall consideration to the appropriate level of retained earnings for sustained growth and our current outlook for earnings, we will raise the dividend. Regarding the total shareholder return ratio, calculated as the sum of dividend payments and share repurchases, the Company intends to return to shareholders a minimum of 40% of profit for the year attributable to the owners of the Company.
 For FY2016, in light of the favorable trend in earnings and stock market conditions, we paid an interim dividend of ¥10 per share and a year-end dividend of ¥40 per share, for a total annual dividend of ¥50 per share, which was an increase of ¥5 per share from the previous fiscal year. This was the fourth consecutive fiscal year in which we increased our dividend payments. Also, between August and September 2016, the Company repurchased shares worth approximately ¥8.0 billion, and as a result, total shareholder returns, including dividend payments and share repurchases, were approximately ¥18.2 billion, and the total shareholder return ratio was 55.9%. The Company will continue to set its total shareholder return ratio to a minimum of 40%.
 With the SBI Group embarking on a new growth phase, the continued support of all shareholders will be greatly appreciated.