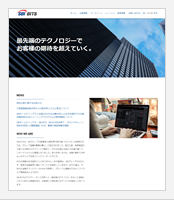 SBI BITS is a financial systems development company that provides systems for the financial services business, one of the core businesses of the SBI Group. Our core mission is to operate systems for the SBI Group's financial services business, including SBI Securities, which accomplished the largest number of brokerage accounts, as well as Japannext, SBI Liquidity Market, SBI FX Trade, SBI VC Trade, etc. Over the years, the company have supported services that require advanced and complex technology, such as ensuring that customer orders are delivered to exchanges and that customer orders are matched with each other without delay.
Recently, SBI BITS has been addressing challenges not only in Japan, but also overseas, including Hong Kong, Dalian and Vietnam. For example, SBI BITS Hong Kong offers a wide range of services for the financial industry in Hong Kong, in addition to the SBI Group. SBI BITS Dalian has become a software development center for global expansion by using advanced financial technology. The global sites have positioned as important development centers that will support future projects, and under the Increased thickness the company will continue to provide more stable services.
In addition, it is planned to expand acquired technological capabilities through the development of financial systems into the new realm of fintech. By providing cloud computing, digital assets, blockchain and other new technologies, SBI BITS will fundamentally recreate the existing operations of financial institutions and develop next-generation financial IT solutions that have never existed before.
SBI BITS will continue to offer services that meet the needs of customers for accessing Asia and the world by adding new value to financial businesses with cutting-edge technology.