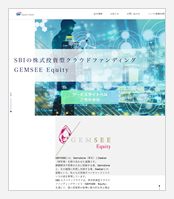 SBI Equity Crowd had been established with the mission of providing a all in one online platform to support small, medium and venture companies in their fundraising efforts, and launched its equity crowdfunding service (GEMSEE Equity) in December 2019.
Through GEMSEE Equity, all investors will have the opportunity to invest in and support unlisted companies, which until now has been limited to a small group of professionals, while unlisted companies will have the opportunity to grow by gaining supporters along with funds. In addition, after the fundraising, the company endeavor to maximize corporate value through synergy with SBI Group companies, including SBI Securities, SBI Investment etc.
The company will continue to plan and operate of acceleration programs, that activate startup ecosystems and develop and create new industries.