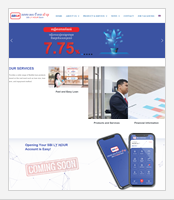 SBI Holdings acquired LY HOUR Microfinance Institution PLC., which conducted microfinance businesses in Cambodia. After following the process to become a commercial bank, in March 2020 the National Bank of Cambodia officially granted the license. Since June the bank has developed its business mainly with small loans for the retail sector.
 LY HOUR Microfinance, the predecessor of SBI LYHOUR Bank is one of the core companies of the financial conglomerates, which is consist of money exchanges operator, residential real estate developer, fund transfer remittance company, non-life insurance etc. in Cambodia. In December 2018 the total assets of the microfinance were ranked 8th in the country.
 With the investment from SBI Group, the synergy brought from the various businesses LY Hour Group owns and the knowledge of the online financial businesses SBI Group had cultivated as a pioneer of a fintech company, we have developed an advanced commercial bank that not only provides financial services that is highly beneficial for customers but also contribute to further develop the Cambodian economy.