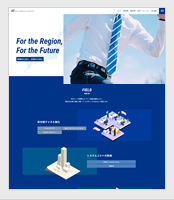 Since its inception, the SBI Group has been providing financial services with higher customer benefits by making innovative changes in the existing concept of finance through proactive incorporation of digital techniques and maximally pursuing the possibility of the Internet.
SBI NEO FINANCIAL SERVICES is endeavoring for the "Regional Revitalization" based on abundant online financial experiences the SBI Group has cultivated thus far.
To achieve this, the Company engages in business that centers around supporting the introduction of fintech-related services for the regional financial institutions and the bank's client SMEs.
In addition to providing "white-label apps" for regional financial institutions, SBI NEO FINANCIAL SERVICES actively promotes the introduction of state-of-art digital solutions of the domestic and overseas startup companies. In this rapidly changing digital era, the Company supports the digitalization and strengthening of online channels of financial institutions and business corporations towards the co-creation of new values with multiple companies, including regional financial institutions that contribute to regional revitalization in Japan.