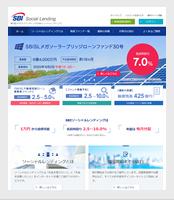 Social lending is a service that ties "borrowers who want to borrow money" and "investors who want to invest their money" via the Internet. It is also called lending crowdfunding and attracts attention as a new form of financial intermediation.
Since the start of business, SBI Social Lending has been originating and launching funds engaging in a wide variety of lending business, including "Mortgage Loan Business Operators Fund" for mortgage loan business operators, the "Kakehashi" and "Kagayaki" series for projects with high social needs such as renewable energy, "Cambodia Mobility Loan Fund" and "Cambodia Microfinance Loan Fund" aiming to resolve social and poverty issues in Cambodia, and "Regional Revitalization Loan Fund" with the revitalization of the local economy in the real estate sector as a theme.
SBI Social Lending will continue working to build revolutionary services using fintech and provide attractive services with social significance, with the "Customer-centric Principle" as the basic management viewpoint.
(*) The crowdfunding market share (actual results in 2018 and forecasts for 2019: amount) in the "Cashless/Contactless Payment-related Market Research Handbook 2019" surveyed by Fuji Chimera Research Institute, Inc.