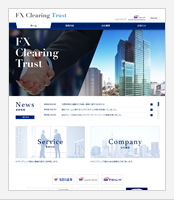 Foreign exchange margin trading (FX trading) in Japan has developed into a world-class financial instrument in both name and substance. This is because an environment for investors to be able to trade FX with peace of mind has been put in place, including the loss-cut rule, leverage regulations and trust protection to secure customers' assets. This is thanks to the outstanding efforts of both the financial authorities and self-regulatory organizations.
Because FX trading in Japan works to ensure safety under this kind of market, it has attracted the attention of neighboring countries in Asia, Europe and the United States. As such, it is expected that the FX trading methods used in Japan will become the global standard model in the future, and we believe that the market will continue to expand.
FX Clearing Trust is a custodian-type trust company with a registered custodian-type trust business for the purpose of securing the assets of FX traders. Since the completion of the registration (on May 25, 2015), the Company has sought to provide more convenient new trust services that are based on, and that complement and reinforce, the existing trust protection system (*) under the legal system pertaining to FX trading.
The trust scheme we provide complements and reinforces the conventional trust scheme and further improves its safety in terms of the trust protection pertaining to each participant's assets for FX trading. It also provides strong support for reliable daily execution of settlement in terms of the foreign exchange gains or losses that arise from trading between participants.
We will continue to work to improve the environment so that participants in FX trading can trade FX with peace of mind.
* Pursuant to the provisions of Article 143 (1) (i) of the Cabinet Office Order on Financial Instruments Business, etc., FX brokers are obliged to manage margin deposits from customers for FX trading separately from their own properties by entrusting such deposits to a trust company or financial institution engaged in trust business.