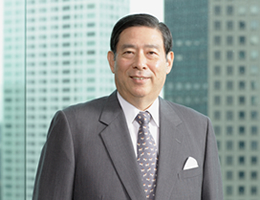 After the Lehman shock, the worldwide equity markets declined and the capital market activities subsided as well. However, the business environment that surrounds the SBI Group continues to dramatically change, as competition further intensifies in its various business segments, while globalization advances and the remarkable development of China and the Asian emerging countries continues.
Since its establishment in 1999, the SBI Group has adhered to its "Customer-centric Principle," which involves fully utilizing the Internet and continuing to deliver highly competitive financial services and products. The SBI Group companies have been awarded high marks in various customer satisfaction surveys conducted by independent third-party evaluating institutions, contributing to the expansion of the Group's customer base to over 13 million as of the end March 2012.
In regards to the progress of the SBI Group's "Brilliant Cut Initiative," which was initiated in July 2010 to enhance the profitability of the Group, the strengths of the synergies between each company and the three core businesses of the financial services business (securities, banking and insurance) will be closely assessed, in order to thoroughly implement the "selection and concentration" process.
Furthermore, SBI MONEY PLAZA, primarily through its franchise system, is in the process of establishing 500 shops nationwide. The SBI MONEY PLAZA shops will actively promote the cross-selling of securities, insurance and housing loan products, from both within and outside of the Group on a neutral basis, in order to become Japan's largest distributor of financial products.
In the transition to become the "World's SBI," not only is the overseas business being enhanced through collaborations, but the overseas organizational structure is being strengthened as well, through the positioning of the Hong Kong subsidiary to eventually become a second headquarter responsible for all overseas strategies. Also, SBI China, which will centrally manage the China business, was established in March 2012 as a "Foreign Investment Company," in Dalian, China. Meanwhile, the International Financial Reporting Standards (IFRS) is being adopted from the first quarter of the fiscal year ending March 31, 2013, with the objective of improving the transparency of management and financial reporting. Along with this change, the opportunity was taken to reorganize the Group's domestic organizational structure, identifying the "Asset Management Business," the "Financial Services Business," and the "Biotechnology-related Business," as the three core business segments.
As the SBI Group transitions itself from "Japan's SBI" to the "World's SBI," we will continue to pursue further growth as a global company. Also, for our valued customers and investors, we will continue to adhere to our "Customer-centric Principle," as we strive to introduce more innovative services and businesses, in pursuit of the maximization of corporate value, which is the sum total of customer value, shareholder value and human capital value.