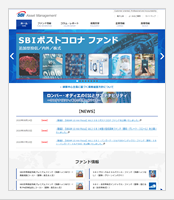 Today, the investment trust business and the business of asset management companies are considered to be transitioning to a new transformation stage.. With the emerging 'era of the 100-year life,' ideas of individuals towards asset management is changing rapidly from savings to asset building, on the tail wind from the huge potential of fintech.
SBI Asset Management has been making efforts to achieve its mission of meeting the diverse needs of our customers, creating and offering innovative investment management products with high added value and consistently offering the best possible service based on our "customer-centric principle," the fundamental idea advocated by the SBI Group since its founding.
We will constantly endeavor to create unique products and offer investment opportunities and information through the know-how of the SBI Group and its domestic and international network. With respect to the management of Japanese stocks, we will provide investment opportunities mainly for unlisted stocks, stocks of companies on developing curves immediately following the initial public offering and stocks of companies that are expected to support the growth of Japan.
In addition, one of the factors that characterize our business is the provision of investment opportunities for assets in Asian regions that are showing considerable growth. SBI Asset Management will continuously create investment opportunities for high-growth stocks by using the SBI Group's extensive network in Asia.
As a company entrusted with the management of assets, we aim to be a trusted asset management company that is indispensable to our customers by maintaining high ethical standards and endeavoring to comply towards laws and regulations.