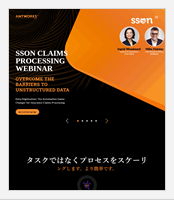 SBI AntWorks Asia is a joint venture company co-founded by the SBI Group and Singapore startup AntWorks™, with the goal of developing business automation software.
The business automation software developed and offered by AntWorks is multi-functioned platform. The functions include process discovery capability that identify high value tasks to-be-automated, function known as RPA (robotic process automation) to effectively build, operate, and manage the identified tasks, as well as the CMR (cognitive machine learning) function, which is the firm's fractal theory-based AI technology, for converting printed matter characters, signatures and company seals into word data that can be handled by computer. These various functions are integrated and offered as "Integrated Automation Platform."
By applying the CMR, AntWorks also offer solutions for challenges that are difficult to address with conventional OCR technologies, which includes smart sorting by fractal theory, facilitate the reading of a documents that are difficult to read by computer such as watermark removal, and allowing non-unified format documents to be read.
Japan must pursue operational rationalization urgently as a nation that is now beset with labor shortages against the backdrop of a shrinking working-age population, which stems from a low birthrate and an aging society. In this respect, by leveraging AntWorks products, SBI AntWorks Asia will provide solutions for such social challenges, while assisting customers who want to rationalize operations.