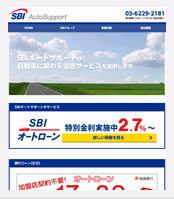 SBI AutoSupport is offering the SBI Group's convenient and low-cost financial and information service, which the Group has developed through its Internet business, to car purchasers and owners through car dealers, mainly JAA member organizations, and other channels. We operate following businesses:
Auto Loan Promotion Business
SBI AutoSupport works with car dealers to promote the use of the "SBI Auto Loan", which is provided in partnership with guarantee companies, such as Cedyna Financial Corp. We are also working to expand our network of dealerships by attracting new members through our unique ability to provide uniform low interest rates, regardless of the size of the dealership, thanks to low operating costs made possible by our commitment to efficiency. We also advertise and promote Mr. auto loans, which are specialpurpose loans provided by SBI Sumishin Net Bank.
Auto Insurance Advertising Business
By conducting point-of-sale advertisements at car dealers, we promote advertising of "InsWeb", an insurance cost estimation website managed by SBI Holdings that offers quotations of maximum 22 auto insurance companies collectively.