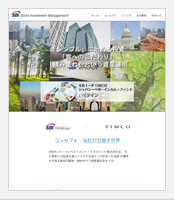 SBI Bond Investment Management is a joint venture between SBI Asset Management Group, Inc. and PIMCO, one of the world's largest bond management companies.
By combining the SBI Group's innovative expertise in Internet financing and PIMCO's high-level capabilities in actively managed bond funds, SBI Bond Investment Management provides attractive investment products that serve the needs of investors for products with controlled risk and achieve long-term asset building for investors at a lower cost than conventional products. SBI Bond Investment Management also operates a securities management support business for regional financial institutions.
While the global low interest rate environment is expected to continue, we will continue to contribute to optimal asset management for our investors by providing precise investment products and investment advice.