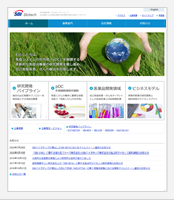 SBI Biotech was originally founded in 2001 as Ginkgo Biomedical Research Institute by Dr. Ken-ichi Arai, a key executive of the DNAX Research Institute in the United States and Director of Institute of Medical Science at the University of Tokyo.
SBI Biotech is a unique Biotech company in the world with a drug discovery technology targeting "pDC" the conductor of the immune system. And the company is engaged in the research and development of innovative new drugs for intractable diseases such as cancer and autoimmune diseases. As a result of research and development activities to date, there are several promising pipelines for drug candidates. The company has sought to monetize these pipelines by licensing them out, with the aim of enhancing our management resources.
Phase I clinical trials of the pipeline "Anti-ILT7 antibody (VIB 7734)" , which is out licensed to Viela Bio, Inc., began in September 2016. And the "SBI-9674", which is out licensed to Kyowa Kirin Co., Ltd. in December 2016, is expected to move up to the clinical trial stage since research and development at the non-clinical stage proceeds smoothly. Furthermore, the exclusive license agreement with ASAHI KASEI PHARMA CORPORATION for an autoimmune disease drug "SBI-3150" (pre-clinical stage) was concluded in March 2020. These pipelines will be developed under licensed pharmaceutical companies without our company bearing development costs.
Immuno-modulatory drug candidates, which SBI Biotech has been developing are designed to treat diseases by affecting the human immune system. The market for autoimmune diseases is the 3rd largest after cancer, diabetes, and pain. Also, in the field of imuno-modulatory drugs treating cancer are drawing attention due to the success of the OPDIVO, and further expansion of the development field and market is expected in the future.
SBI Biotech will continue to contribute to society through the development of innovative new drug seeds.