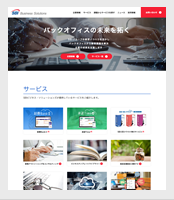 SBI Business Support, as the sole CRM(*) agency in the SBI Group, is a CRM vendor offering services such as planning, operation, and implementation of a contact center in a selective manner of outsourcing or staffing.
In addition to their role in linking end users and businesses, CRM agencies today are also required to maintain extremely high standards in terms of personal information security, compliance with the J-SOX Law, and contact center management.
As a provider of services to SBI Group companies involved in a variety of financial business activities, SBI Business Support has developed a strong awareness of the need for high compliance standards in contact centers. We have also accumulated extensive management expertise covering all aspects of this business area, including inbound, outbound, in-house, and outsourced services.
We have extended our expertise and human resources to include not only temporary staffing for call centers, but also the provision of staff for general administration, sales administration, as well as personnel with qualifications and experience in other financial areas. We accept temporary staffing orders even when the requirement is for just one person.
As a human resource solutions company, we will continue to supply human resources through various channels to meet the needs of our customers.
* CRM…Customer Relationship Management