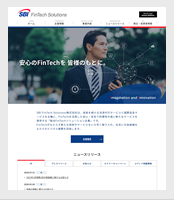 SBI FinTech Solutions (the "Company") is a total fintech solutions company that provides secure, easy and convenient services using fintech. Within the SBI Group financial service business, the Company is strategically positioned as "high value-added service provider with innovative fintech technologies to fill the gap between conventional financial institutions and customers' needs" and develops payment, international money transfer and back-office support services as its main business.
 The payment service, centered on the Company's subsidiary ZEUS Co., Ltd., provides online payments for e-commerce business operators through which they can introduce diverse payment methods on a one-stop basis, and terminals which can be used at stores and events. The international money transfer service, centered on SBI Remit Co., Ltd., a subsidiary, has its strength in an inexpensive convenient money transfer service using its money transfer network extending to more than 220 countries and regions around the world and DLT (distributed ledger technology). In the back-office support service, the Company's subsidiary SBI Business Solutions Co., Ltd. provides accounting outsourcing services including cloud-type expense settlement, workflow and attendance management systems.
 In the wake of the recent enforcement of the Act on the Arrangement of Related Acts to Promote Work Style Reform, many companies are promoting a shift to a non-face-to-face business model to realize flexible work styles free from time and place. Regarding this business environment as a tail wind, the Company will seek to further expand its business domains.