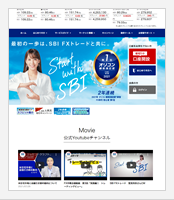 SBI FXTRADE was established as a pure-play FX company. Our mission is to provide a fair and transparent FX trading environment for foreign exchange margin transactions for financial beginners. This business approach has been extremely popular with investors, that led us to win 1st prize in "Oricon Customer Satisfaction Ranking" of "Beginner Category for FX Transactions" for 2 consecutive years, etc., and has earned the support of investors at all levels from beginners to professionals.
The minimum trading unit in our service is one currency, so the investors may start FX trading with small amount of capital. We also receive high commendation from experienced and professional investors, by handling orders up to a maximum 10 million currencies per order and offering multifunctional trading tools.
Our services offer the following additional advantages made possible by drawing on the FX business expertise of our parent company, SBI Liquidity Market, which also covers our transactions.
・ The narrowest spreads in the industry
・ The best swap point in the industry
・ As superbly user-friendly multifunctional interface designed from the customer's perspective.
In addition to the above, we also help our customers to improve their financial literacy through FX trading by providing a wide spectrum of information, ranging from financial data to information about the risks involved in FX trading.
We are also the first FX company to provide CFD trading service for crypto-assets which started in August, 2020. Three types of crypto-assets - Bitcoin (BTC), XRP and Ethereum (ETH) - can be traded against the dollar as well as the yen. We will continue to develop as a comprehensive derivatives company based on the "customer-centric principle," by always giving top priority to customer feedback and creating and providing services that meet the customers' needs