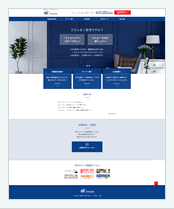 SBI Guarantee, as an "institutional guarantee company" for rental housing agreements, offers rent guarantee and related services that serve the role of joint or multiple guarantors.
Businesses that develop similar services, typically called "rent guarantee companies", have rapidly increased importance and have been spreading widely due to various aspects of the social background, including the increase in senior citizens and the unemployed.
SBI Guarantee makes full use of the credibility of the SBI brand and has developed mechanisms and rules for permanent provision of high-quality service at low cost through the ideas and high moral standards of a comprehensive financial group. Accordingly, the business is seeing healthy expansion and has been granted many deals especially with real estate management companies in the greater Tokyo area.
We naturally comply with a variety of ordinances and while giving deep attention to the diverse needs of the rental market we have constantly been selected with reassurance by both renters and landlords. We continue to improve our services even more in the future.