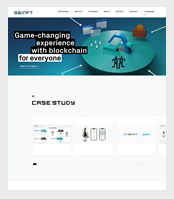 Non-fungible tokens (NFTs) use blockchain technology to give uniqueness to digital content and rights such as digital art, game assets, and script data, making their value visible and bringing them new opportunities to be merchandized. As a global trend, the market size of NFT is rapidly expanding, and a wide range of players, from major operators to startups, are entering the market, creating new markets every day.
SBINFT Co., Ltd. operates the NFT marketplace 「nanakusa」, a service that allows users to issue, sell, and purchase NFTs.
Through the NFT marketplace, SBINFT provides a wide variety of content based on the latest technologies such as blockchain and metaverse, in addition to consulting services such as community building, technical support, and sales strategy planning to maximize the value of NFT.