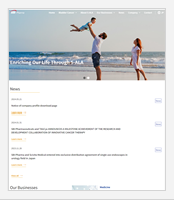 Focusing on 5-Aminolevlinic acid (5-ALA), SBI Pharmaceuticals develops pharmaceutical, health food, and cosmetic products that contain 5-ALA as the main active ingredient.
Though 5-ALA has long been known as a kind of natural amino acid, it was only recently revealed that 5-ALA is extremely important for respiration and energy generation of living organisms.
Joint research with universities has led to the discovery of 5-ALA's potential in unexplored areas in the fields of metabolism and biological control. Research activities have recently extended to beyond domestic research labs to joint research with foreign universities to constantly discover new applications for 5-ALA.
In the pharmaceutical field, SBI Pharmaceuticals is already marketing ALAGLIO®, a surgical diagnostic drug that facilitates the identification of normal and cancerous cells during cancer surgery. ALAGLIO® utilizes the tendency of a fluorescent metabolite of 5-ALA to accumulate selectively in cancerous cells, which then glow red when exposed to a special blue light. We are also developing a variety of other pharmaceutical products.
In addition, basic and clinical researches are being conducted in various fields overseas as well as in Japan. SBI Group holds US and European Companies expanding those surgical diagnostic drugs in those areas. We have collaborated with them for the expansion of businesses and researches.
Focusing on such a promising substance blessed with possible applications in a wider range of fields, we strive to develop the products that serve your healthy and enjoyable life.