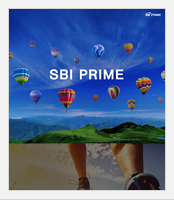 SBI Prime Securities is a licensed financial broker founded by SBI Securities, the core company in the SBI Group, and SBI BITS which plays a key role over technology space under the Group.
Our mission is to provide evolving business models to both global and domestic base individuals/institutions with higher trading volume to achieve successful trade experiences.
We work on to blend in "finance", "technologies" and "commodities" crossing over respective space by directly joining into the commodity market as a financial broker. We wish to be an "innovator of market" as well as the Dojima Rice Market, the first financial derivatives exchange established in world history, approximately 300 years ago.
SBI Prime Securities will challenge to improve our services picking up client-needs, then, aim further to stay as one of reliable partners with our clients who need better executions and trading environment by leveraging synergies out of SBI group through our group philosophy, "Client-Centric".