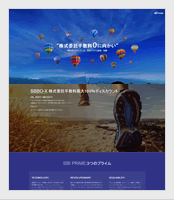 SBI Prime Securities is a licensed financial broker founded by SBI Securities, the core company in the SBI Group, and SBI BITS which plays a key role over technology space under the Group.
Our mission is to provide revolving solutions to both global and domestic base individuals/institutions by crossing over the major qualified investment giant into smart technology phase to achieve successful trading experiences of clients.
As for the first service rolled out of this brand-new company, it has launched "SBBO-X" (SBI Best Bid Offer-X) which proposed traders with high trading volume on local cash equities at SBI Securities making more opportunity to generate better executions or conditions. SBBO-X is a space produced by SBI Prime Securities to match your orders via SOR (Smart Order Routing) with market makers, then, immediately deliver those matched executions into "ToSTNeT" (Off-floor exchange of TSE) once your order was filled with better executions or conditions at SBBO-X.
We will leverage our smart technologies on Artificial Intelligence, Algorism trading, Co-location data center, Super low latency facilities, Auto-risk monitoring tools . . . and deliver a variety of financial products and market accessibilities with such key technologies to our clients.
SBI Prime Securities will challenge to improve our services picking up client-needs, then, aim further to stay as one of reliable partners with our clients who need better executions and trading environment by leveraging synergies out of SBI group through our group philosophy, "Client-Centric".