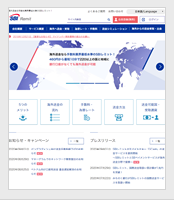 SBI Remit Co., Ltd. provides a highly convenient international remittance service for individuals that makes full use of the latest financial technology. It has achieved the lowest overseas remittance fees in the industry while ensuring safety by using the Internet channel and systematizing remittance processing from the very first step. Its strength lies in providing services tailored to the lifestyles of users, so that they are able to request remittance easily via the Internet and from ATM and convenience stores.
Owing to an alliance with MoneyGram International, Inc., a major international remittance service provider in the U.S., and various other money transfer companies and banks, SBI Remit has enabled remittances to be received in as little as 10 minutes after the money is deposited into SBI Remit through its remittance networks in more than 200 countries and regions worldwide. To further increase the benefits for customers, we are expanding our alliances to cover major banks around the world and provide customer services in 12 languages on our website and at our customer centers.
More recently, we have also been working to develop a remittance service using DLT (Distributed Ledger Technology). In 2017, we began remittances using DLT provided by Ripple Labs Inc. in the U.S. for the first time between Japan and the Kingdom of Thailand through a technology alliance with SBI Ripple Asia Co., Ltd. Similarly, in 2019 we began providing a remittance service between Japan and Vietnam using DLT of Ripple Labs for TP Bank, a commercial bank in Vietnam. We will continue to further expand remittance services we provide using the infrastructure of Ripple Labs.