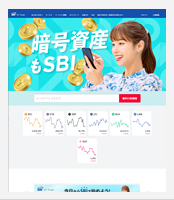 Crypto-asset(crypto-currencies) can be used as payment for goods and services through the Internet, and can be exchanged between legal currencies such as JPY and USD. Due to its beneficial structure, of not requiring a particular issuer or is usable anywhere through the Internet, crypto-asset and the underlying technology has started to be expansively used on other purposes.
With the high reliability as a member of the SBI Group, SBI VC Trade operates sales and exchange service of crypto-assets to offer safe and secure transactions of crypto-assets for as many people as possible. We strive to improve customer convenience using Cool X Wallet and other security measures, and by releasing VCTRADE SP, a mobile app.
In addition, as a creator of innovative services and businesses that use crypto assets, the central part of digital assets, we endeavor to create and cultivate a sound and customer-oriented market, and are working on improving prices and expanding liquidity, towards customer satisfaction.