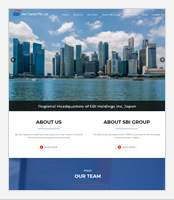 SBI Ven Capital is an affiliated company of the SBI Group, based in Singapore. It has a Capital Markets Services License under the Securities and Futures Act from the Monetary Authority of Singapore (MAS) to conduct fund management activities for accredited investors. It invests in early and growth stage start-ups primarily in the financial services and technology sectors across Asia. It also provides support and promotion for the Asian entry of the SBI Group's financial services businesses. As of December 31, 2019, it is managing USD 380 million.
SBI Ven Capital runs the SBI Emerging Asia Financial Sector Fund, which is a growth strategy private equity fund, investing in financial services and fintech in emerging Asia. Representative investments from the fund include NIUM, a Singapore-headquartered Fintech company licensed in 10 jurisdictions, as well as Satin Creditcare Network Limited, a microfinance institution with over USD 1 billion in loan portfolio as of November 2019. Apart from its fund investments, SBI Ven Capital has also supported strategic investments in multiple technology start-ups, including Tokopedia and Sendo, regional e-commerce giants.
SBI Ven Capital's investment platform combines financial acumen, industry insight and operational expertise to enhance the value of the companies we invest in. It has a proven track record of partnering with companies and assembling critical resources needed to grow businesses by leveraging on the eco-system of SBI Group entities, investee companies and corporate partners. It plays an active role in the development of the SBI Group's overseas financial ecosystem.