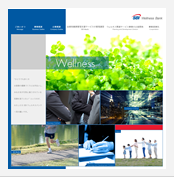 The SBI Group established SBI Wellness Bank in April 2007 in order to actively engage in direct contribution to society in the medical field.
Based on the SBI Group's principle, "In order to remain a strong and respected company, we must fulfill various social responsibilities," we provide support to Tokyo International Clinic, a medical corporation, with the vision to contribute to the development of a healthy and positive society. From an ESG (Environment, Social and Governance) investment perspective, a management approach that ensures improving employee health and vitality over the medium to long terms is considered an important factor of "society" and "corporate governance." In addition to maintaining good health of the executives and employees of the SBI Group, we offer assistance to companies which are foundation of society, by protecting the health of their managers through the provision of various preventive medical care, including the most detailed comprehensive medical examination.
With the emerging era of the 100-year life, we will endeavor to offer new medical services for our customers and meet social needs for a managerial approach to ensure employees' wellbeing.